Look we are in need of some instructions from Sandra Hall of the River Ministry to give us some high lights. Thank you. Sandra.
We want to have copy right so that the copy left can be done with our permissions!
This page will have music from you tube. and files within the internal links.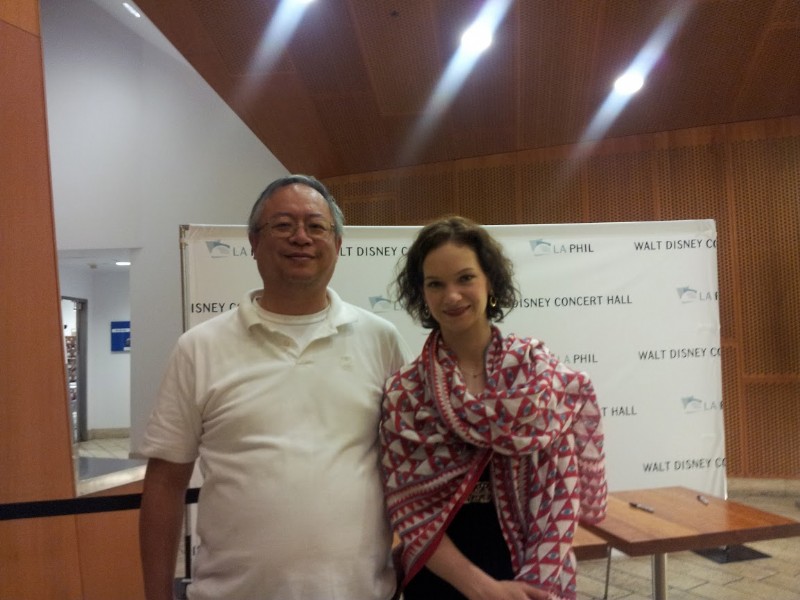 (This photo was taken on or about January 2013)
A Teacher to the World about Violin is Miss Hilary Hahn that I had the opportunity to have a photograph taken together. Maybe I will be able to get her signature when I see her again the next time around when she comes in town to perform another concert. Right? Right!
Methinks that she is a wonderful teacher besides being a World Renowned Virtuoso Violinist.
I have another teacher friend who is one of the Winners of the Avery Fisher Award in Strings in 2008. Pursuant to the traditions that one winner globally will be awarded by the committee annually. I heard of his Virtuosity in playing violin on a piece that I had no clue at the time in the car driving somewhere in the night. That was sometimes ago, I was just listening to the radio to quench the loneliness of the night since driving can be boring especially when it is of a good distance to travel. The double violin section was so amazing that she, Adele Anthony, played just as great as the other violinist. That is not to deminish the overall performance of the performer who under the pressure to keep up with the intensity of the piece of music and to demonstrate the tenacity of more than capably to handle the music without hesitations and delaying, which was also amazing to maintain. Years have gone by, I did not go out of my way to seek him up. I thought might he be performing in other parts of the World. Then, one day in February 2013, I saw the advertisement in the local Chinese newspapers, that the unbeknown to me Violinist would be playing again in the Walt Disney Music Hall in Los Angeles, California. So I went to his concert for the first time, and got a chance to have a picture taken.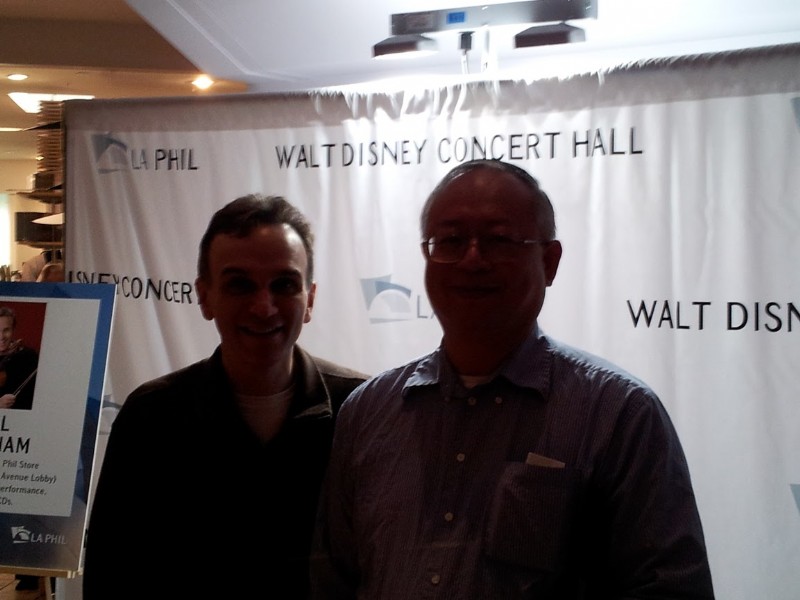 (This photo was taken on or about February 2013.)
Mr. Gil Shaham and I, of course, this photo was taken against a brilliant background with a camera in the cell phone. Can it be a coincidence that I heard of his recital on the night that Mr. Gil Shaham was awarded the Fisher Award, then, a few more years went by. When would I have the chance to meet with Mr. Gil Shaham in person? I did not know, since according to Jewish Traditions, nothing happened just because of co-incidence. But, I am just very happy to be able to tell him on my feedbacks to the radio show as an anonymous audience out there on the freeways of California.
Those are the world famous guests to my small website for now. Maybe I need to improve the site as well as to improve myself. Toda! Shalom! However, this is not the first time I listened to the violin performance. Early on, I heard the outstanding concert performmed by Miss Linda Rose with the other musicians in the Walt Disney Concert Hall. At that time, I was working for an electrical contractor who had installed the electrical systems that included lighting, power, audio and video systems for the Walt Disney Concert Hall. Prior to attending the concert, I had received instructions from colleagues on the final job walk that was needed in order to conclude the project. I had never thought that by attending the concert in Walt Disney Concert Hall had fulfilled the requirements of the contractual obligations prescribed by the scope of work, that the following day the Concert Hall has been officially released to the County of Los Angeles. Although I did not claim the credit, but I felt the honor to help in a way that was too far fetched to utilize, and to assist. Nonetheless, that was not the big test, not after Miss Linda Rose drew a curvy line for me to decipher. Methinks, that was supposedly to be a staff of the Bishop since in the traditional church in particular the Anglican Communion, or the Roman Catholic Church, all the important clergies have to have one in hand to show the faithful, and to demonstrate the authority that had been bestowed upon them when they went through the laying on of Hands to be ordained into the ministry of the Church Universal, be it Catholic or Anglican Communion. I was very delighted in my cute reply. Who knew that was not the correct answer?! Miss Linda Rose replied distictively that was a scroll. My mind went blinking with the question marks as well as the exclermation marks. How could it be? It really looked like a staff to me. Then, she explained that was the scroll of the violin, that got nothing in common with the staff of the Bishoporic authority or symbolism. That was the first time, I got to know that the same type of symbol can also mean something else. I could not claim the credit to a wrong answer given, nevertheless, I could now understand that contextualizations were also served as a very important part of connection in interpersonal communications especially when people came from different trades and owning to diversified life experiences. I did not mean to insult her due to my ignorance. I was just giving an honest answer based on the best representations that my mind could product to fit the situational drama. Above all, Miss Linda Rose was rather graciously accepted my appology for not knowing enough to express my sincerity to her excellency in music field, especially in krazmatic music whereby the minor key signatures were often than not been denoted and depicted, in a sense if not defined with extraordinary performance from beyond the amphitheaters east of the Meditteranean Sea, or West L.A., when the sun just sets on the horizon of the Pacific Ocean outside of the Santa Monica beach.
I noticed that there were a Chinese family dressed up for the high society events of the night walking around. The man was in his toxidos, and the lady in her Mandarin robe, with a beautiful sweater, for she dressed in a rather elegant way with her black shining hairs accompanied by the colorful jewleries donned for the occassion. There was also a young lady who was rather free spirited to match up the evening concert. I did not talk to them much since I did not know them well. Who knows what that same lady became one of my violin teachers in the neighborhood I lived for a few years to come. She was one of my friend's Mom. Miss Lucy Lu is her name, and who graduated from the Shanghai Music Conservatory, Shanghai, China. I had always taken proud of her, even though I have never been in China, not to mention Shanghai, where ought to be my own hometown. It was another story to say the least.
But, prior to that I was studying under Miss Donna Marsch, who was a very famous teacher that I was so blessed to study under. That was the first time, I was able to play the music from a textbook, which I was not making much senses prior to meeting her.
I have had a few others as my teacher throughout time. Now I am learning how to play violin with Miss Lucy of the Las Vegas Music Accademy. The one and only accademy that I could not reached from Jerusalem.
1/17/2014 @ 10:27PM in Los Angeles.
However, so far I have only three photos and I have uploaded two to share with you. My two other friends that I do not yet have a photo to show you are Ruth Fazal, whom I met in Jerusalem, and Maurice Sklar, when he first blessed me for my longevity in life, I knew nothing much about violin or playing a violin some day soon. All things seemingly happened in one day. Shabbat Shalom!
Why Violin: instead of other musical instruments?
I do not yet having the answer. Perhaps Violin was one of the few musical instruments given to me in a time that life was rather lonesome and uncertain even if it was in Taiwan, a native to the land, I did not have a way to develop myself musically. I had a flute, that was because in the elementary school, the teachers required all the students to participate in the band so that we could contribute our energy and efforts to better the music needed ceremonially and that we can be trained for a alternative future with some basic skills.
I was alone, not that I had chosen to be a lonely person. But, because of the unforeseen events took place in the life of the nuclear family that I had to be alone to wade off the hedges of the city jungles. Might there be of any worldly beasts, or wild animals, I knew none. But, to live like a hermit, I could tell you for sure that is not much fun involved, especially not for an energetic sentimental person like me. Romantic period of life has its short term memories enlightened, remorsefully the romance could not be always turned into happy endings due to pressures from other dimensions could be solemn.
I thought I had mandated my life to be a rather quiet person living in a silence mode in order to recover some good and cheerful memories from in time past. Howbeit, the Chinese Vertuoso Violinist came to the old house in Taipei, and rang the door bells a few times to announce to me that he was very happy to represent my parents to pay me a visit. In their absence, the Violinist generously took out from his car two brand new violins and gave to me as a personal gift and to promote the education in music. I was dumbfound by his generosity and I did not have anything that was of any value to give him back in return. He graciously retracted himself and made an excuse to leave the short visit even shorter, yet, sweeter. The violinist was one of the two persons who came to visit me during the five years waiting and trying period of my life. I now have the violins, but I had no teachers nor did I have the money needed to learn how to play. Although I was an engineering major and paid much attention to the development in scientific fields, but, to humanity, I remained rather a novaice. Like everybody who go a new gift from some famous person would have do, that is to broadcast around the neighborhood. I did that without exception, but I did to the church people instead. Not that I did not want to share the joy with my friends in the old neighborhood, but, they either moved away or had gone abroad to pursue other lifestyle. The hood was just like it was, but silently laying flat under the sunny daylight. All the loughters we shared together went a way away, today, that neighborhood exists no more. History sometimes were awefully hurtful if looking at it directly without a pair of spectacles.
My misfortune did not leave me alone. It only brought mierable with when delightfulness turned dark and the taste of water turned even more flat than the beer sat too long on the table under the sun. I thought someone in Church might be able to give me a hand or at least some guidance to teach me how to play violin, or at least to show me the keys on the finger board. But, that was not the case, and the gifts given had not found its way to come back to me, not just yet for a period of over 30 years now.
I only got to caresed it for a few minutes and to touch the smooth surface with that shining liquor painted smoothly and evenly on the wooden body soothed many hurting memories, due to misunderstandings and misconstruded perceptions. But, the moment of joy did not last. Never in my life a gift was taken away from me so fast in such a crafty way. Of course, that did not mean I got to keep all my candy money either. Chinese New Year Celebrations can be many styles and ways, the best way know to all was the giving of the Red Bags from the senior relatives. Red Bags mean prosperity and good jas, and good charm. More to it the Red Bags means a new form of piggy bank, only if one is allowed to keep it safe in the pocket. But, all the pockets have a hand and some have a hole to it, so that the temperal bankers can save their days in playing the role of wealthy landlords.
I was hoping that someday I could utilize my skills and trainings received to help the church by providing them with some music and helping them to make some melodies not heard from regular singings. But, that was just my hope and dream that was far fetched at the time. However, it was not possible for in the Southern Taiwan, to play violins and other strings were very popularly done by the schools and other music related business entities. But, in Taipei, playing music was a forbidden tatoo. Nobody will befriend somebody whose primary task in school was to be a music major or to become a musician. That was unheard of and could be banned by the parents if not to be somewhat denied by the teachers in school. The teachers could not really say no to musical education nor fine arts, but, there were not that much time in the day for these courses to become an one and only lesson to learn for life.
I too went to the church with my merry heart and only to be countered with a request demanding that I surrending the gifts I had just received for the couple was in a better position to serve only if they could have the tools they needed to better their effectiveness in ministry.
I was gladly bringing the first violin to meet the need since the teaching in the Bible was that give to them whatever they demanded of you. After all, all things in life cannot be taken up into the heavenly realm, was my after thought. But, that did not satisfy the needy, instead, they made a motion requesting the second violin to be surrendered to them. I thought the church could now be better off with the second violin. But, no, that was not the case. For when I asked the person who took the violins from me how was it. That person declined my curteous inquiry and denied to return the violin back to me. For, I did not have the receipt from them about taking away my two brand new violins. And, one of the violin was not been used for the hurting fingers. I protested the way I had been treated, but it was never acknowledged, therefore, the violins that was the only gift I received from the violinist as a token to express his compassion and love had thus sunken into the deep blue. I was miserable and misfortune did not cease its attack on all fronts of my life. For love, for joy, and for faith, I surrendered it all. Only to find death. which I least wanted.
However, since I never had a real violin lesson at the time, I was not too concerned with the gift, even though there was this empty space in my soul that had become even more emptier, isolated and at times sorrowful. But, I thought that I might have yet another chance to get back what had been lost. I still went to the church as nothing had happened, just so that I could one day soon to leave and to seek another dream. I saw a very beautifully printed poster with a violin on it that delightfulness had since then enlightened my eyes. For the first time, I felt that there was life in the picture. Although I knew not too much about the instrument, nonetheless, I could tell it was a very fine piece of musical instrument. That was because I seldom heard people playing that type of musical instrument, so rare. If anybody ordered a beef steak and demanded that to be make just barely cooked for his or her tasting buds, that was not rare enough. It had to be scarcity enough like something dig out of the Galatia atop of the Alps from the long frozen frying pan of the then modern caveman's dinner, to better fit the picture mentally.
Suddenly in my heart filled with all kinds of wishes that some how at some date in the future that I could be playing the violin again, and that I would be able to get a violin from somewhere with the permission of somebody, anybody that did not want to own or to disown a violin. I knew nothing about the values of owning a violin, not to mention to disown one. That freshness and cheerful colored red roses accompanied the finely made violin expressing more than the word - Concert. It was an union of a man and a melody making tool together the world might be enjoyed.
So I came from a small town in a tiny island to Narita International Airport, whereby the low pressured cold air had caused a snow storm which hampered the efforts of all who would like to caught up to the schedule to meet or to visit or to associate oneself with a new and exciting surroundings or environments.
cccccccccccccccccccccccccccccccccccccccccccccccccccccccccccccccccccccccccccc
Could this be a co-incident that I felt asleep as if when I was still snoring in the passenger lobby waiting to catch the next plane to come to Los Angeles? I had just felt asleep again for no apparent reason. Where am I when I was sleeping in the airport? Was I traveling ahead of time to Today with a time eclipse of nearly 30 years? As I recalled that I left Taiwan on or about February 18th, 1984 and stayed over for a night in Japan, and now I am in Los Angeles, on January 25th, 2013, which was slightly BEFORE 2:28PM. The disparities in life alerted me not, yet, the snoring I have just made alarmed me. I wonder if I am still sleeping in the lobby of the Narita Airport as when I was first traveled there nearly 30 years ago?!
Maybe someday, one day I will be able to go back to the same terminal that looked out to the edge of the airport in white snow flakes seeing that one bus made it through to the gate and that all in a sudden the picture turned into snowy scenes, with no trace of the road that the driver of that delivery van had remembered prior to coming in to the airport. The snow flakes began to fly sideways, all night long the snow storm was raging against gravity charging from the right to the left in a streamline like a silvery streak as if though the gravity to them was on the left instead of beneath my feet. I was wondering if I was standing on the floor inside the airport. Not until the air stewardesses and the crews coming in from the other end of the building, we were living in perplexity. That was because the snow storm that had raged all night long had retracted its prowess and begun going North, instead of South. It was freezing cold in the lobby even though they had set the temperature gage on the thermostat to the highest ratings possible, nonetheless, that terminal simply had too many glassy windows to keep the room warm enough. By this time, everybody who was left behind in the lobby got a sense of new hope and getting ready to board the next plane for the next leg of their trip to America and beyond.
I had three bags of books accompanied me, the violins were not with me for the trip. I was simply holding it in my bosom as if though I had them, and that they were invisible and transparent for now. After all, it is too late to go back to pick it up, even if they were returned back to me. I tried not be fixated to the gifts that was mine to keep. But, I could not foretell the future. All in a nutshell, that I had at least a few acquaintance to talk with on boarding the plane. So I left the airport behind, just like I had left the old house behind. I found no tears, for many had been kept along within the emptied rooms on the pillows of the queen size wooden bed, that which used to be our little hiding place and toy house.
Let the Mother Goose takes us all along the way to a new world...